Common Types of Roof Trusses and Their Uses Explained
The roof truss is an effective tool for building the roofs of residential and commercial buildings. They allow a variety of roof styles to be constructed using lighter materials while retaining structural strength and resiliency. Trusses are the triangular support structures upon which the roof decking and roofing materials are constructed. Some trusses are simple, but others are built for specific purposes and with greater tolerance for circumstances that can cause damage. In some areas, hurricane roof strap installation on trusses is mandatory. When trusses are combined with
hurricane roof straps in Florida
, they create roofing systems that can even endure the rigors of frequent severe tropical weather.
Because of their versatility in construction projects, there are a variety of truss styles that can meet the demands of building designs and practical applications. Keep reading to learn more about the different types of roof trusses in use today as well as the way that each type is utilized.
Queen Post Truss
The queen post truss offers a reliable yet simple design that features a central post with a support lattice that can be used on any roof with less than a 10-yard span. Because of its simplicity, it's easy to install.
King Post Truss
Another simple truss that's easy to use, the king post features a central post and is well-suited for smaller structures. It can be used to span roofs of about 8 yards in width, and while it's usually made of wood, it can be made from a combination of wood and steel if desired.
Fan Truss
A fan truss is typically made from steel, and while it features simple construction, it has many advanced elements that make it supremely sturdy. The top chords of the truss are divided into smaller lengths, which creates enhanced purlin support. Its span can reach from 10-15 yards, which makes it perfect for medium structures.
Howe Truss
The Howe truss is another type made from a combination of steel and wood. It's primarily fabricated from wood, but features tension members and vertical members made of steel. That increases its durability and reliability and allows the truss to span up to 30 yards.
Parallel Chord Truss
Ideally suited to those who want to use trusses while building on a budget, parallel chord trusses are made of wood. Unlike some other types of trusses, there's no need for a load-bearing wall or beam. They save money on labor during the installation process, though they take up more space in the attic. They also have limited spans, so they are better suited to smaller structures.
Dropped Chord Truss
The dropped chord truss is a variant of the conventional truss, only it features a second chord that is dropped beneath the primary chord. Not only does the secondary chord add additional support, but it also creates a natural vapor barrier.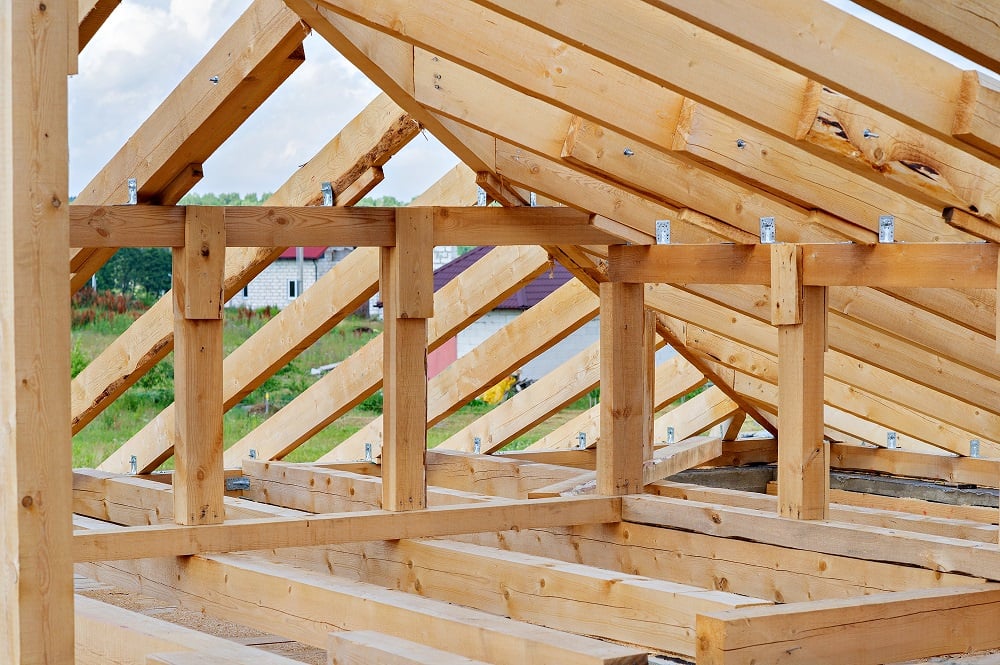 Scissor Roof Truss
Commonly used in conjunction with cathedral ceilings, scissor roof trusses create elegant open space beneath them while maintaining strong support. However, they lack energy efficiency since there is little room for insulation around them. However, for those who want a vaulted ceiling, scissor trusses are a popular choice.
Raised Heel Roof Truss
The raised heel style of roof trust offers the best energy efficiency of any major truss type. It provides excellent structural support for your roofing system with maximum space for insulation and a built-in vapor barrier. However, those benefits come at a cost, as they are among the most expensive types of trusses in the context of a whole roofing system.
If you plan to use trusses in your next building project, make sure you know the different types and what each has to offer from the standpoints of strength, stability, energy efficiency, beauty, and space. To learn more about the different types of trusses and how each is used, call LGT Restoration Services at
(844) 990-9797
and we'll help you select the right trusses for you.